Jim Griffiths: Designer/Artist
"Established in 2002, POWA Design is about concepts and ideas that I have been harvesting for a number of years. They are largely based on my own experiences growing up in small town Waihi - then moving on to Auckland.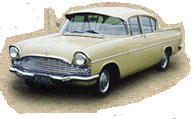 Being of Maori and European descent, I am the youngest of 9 children. My fondest memories were of family excursions in the back of my dad's 1960 PA Vauxhall Velox. We loved that big old car, so much so, that I bought one myself in 1990.

I Graduated from Elam School of Fine Arts - University of Auckland, with a Bachelor of Fine Arts [design major] in 1990. I also spent a year at Auckland University of Technology doing a Certificate in Desktop Publishing. I am now working in Web Design, Illustration and Print. There is not a day that goes by when I am not thinking about Art.

What inspires me is my Whanau (family), culture, sport and Aotearoa. This is what POWA is all about.
To view my portfolio of websites, multimedia, illustration and design, Click Here.